LINA Two Roll Open Mill
LINA-freesmachine met twee rollen is geschikt voor rubber, kunststof, elastomeer en andere polymeren. Het is eenvoudig te bedienen met een laag onderhoudstarief. De rol is gemaakt van hoogwaardig koolstofstaal, dat wordt behandeld door middel van nitreren en het oppervlak wordt bedekt met hard chroom, en de gaten in de rol zorgen voor het koelende effect en de efficiëntie.
L aboratory en massaproductie twee roll open mill zijn ontworpen voor laboratoriumtests en productie met grote capaciteit. LINA open molen kan van toepassing zijn op rubber- of kunststofverbindingen met een hoge treksterkte, hoge viscositeit en hoge hardheid. Veiligheid is onze eerste prioriteit, onze ingenieurs hebben uitgebreide veiligheidsvoorzieningen zoals 360 graden noodstopknop, achteruitrijmiddelen, infrarood en sensor- en ergonomiebeveiligingsapparatuur enz. LINA- machines met twee rolfrezen hebben de nationale patenten toegepast.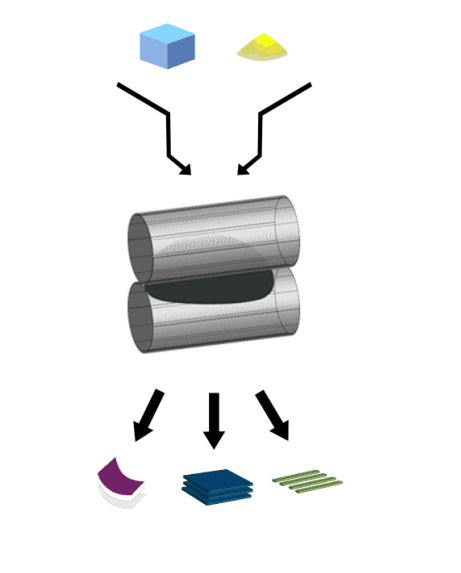 Voordeel van LINA Two Roll Open Mill
De open molen van LINA neemt het voortouw in de planning- en formuleringstechnologie voor installatietechnische apparatuur ter ondersteuning van diensten en leveringen. [De sleutel tot veel ondernemingsprojecten heeft verschillende technische obstakels voor klanten opgelost.) Onze twee-rollen open-walsproductielijn heeft speciale machines onderzocht en voltooid technologieën voor verschillende industrieën zoals milieu of bedrijfstak en omgaan met de inrichting van bereidingsfaciliteiten om automatiseringssystemen te verbeteren.
Hogere reinheid, draagbare binnenruimte, instelbare rotorsnelheidsverhouding, temperatuurregelsysteem, intelligent PLC-besturingssysteem en veilige apparaten zorgen ervoor dat uw machine wereldwijd wordt gebruikt voor de productie van rubber en kunststofproducten, afdichtingsprofielen, kabels, bandentoepassingen en frictievoeringen evenals voor speciale polymeermengsels en thermoplastische elastomeren.
Belangrijkste kenmerken
1. Uitgebreide veiligheidsvoorzieningen zoals 360 ° noodstopknop, achteruitrijvoorzieningen, infraroodsensor en ergonomische beveiligingsapparatuur enz. LINA-veiligheidsapparaten met twee rolfrezen hebben de nationale patenten toegepast ter bescherming.
2. LINA twee rollen open molenwals is gemaakt van hoogwaardig koolstofstaal, dat wordt behandeld door nitreren en het oppervlak is bedekt met hard chroom. En het middelgrote gat van de rol zorgt voor de koelefficiëntie.
3. PLC intelligent soft-controlesysteem is niet alleen eenvoudig te importeren of exporteren, maar ook nauwkeurig in controle en meting van mengtemperatuur en -verhouding.
4. Multifunctionele opties zorgen voor eenvoudigere bediening en lagere onderhoudssnelheid. LINA twee open walsen zijn ontworpen voor laboratorium- en massaproductie voor plastificeren, mengen en uitvoeren. Verwarmingssysteem, koelsysteem of dubbelfunctiesysteem zijn beschikbaar om te voldoen aan de mengvereisten van een verscheidenheid aan materialen en om de efficiëntie van de stroomproductie te verbeteren.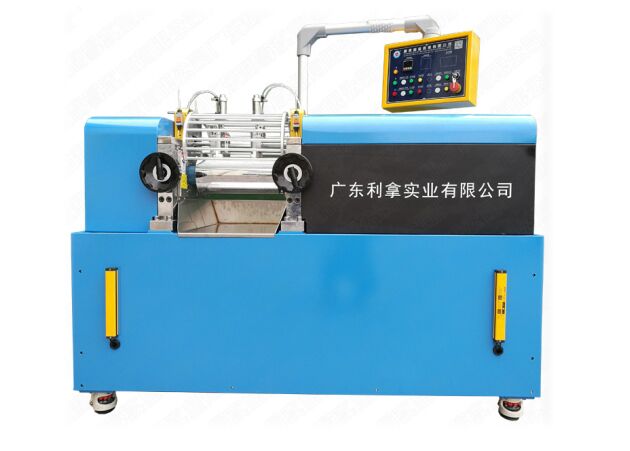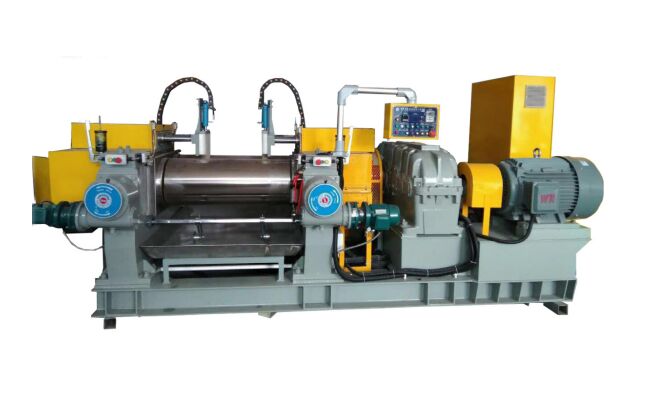 Item

Technical Datum

Model

XK-120

XK-160

XK-200

XK-300

XK-360

XK-400

XK-450

XK-550

XK-560

Roller diameter

mm

120*350

160*350

228*600

300*700

360*900

400*1000

450*1200

550*1500

560*1530

Front roller liner velocity

r/min

19

18

16

13

11

11

10

9

8

Roller velocity ratio




1.24

1.29

1.27

1.3

1.2-1.3

1.2-1.3

1.2-1.3

1.2-1.35

1.3

Max pitch

mm

0-5

0-5

0-8

0-10

10

10

12

16

15

Machine output

kg

0.5-1.5

1.5-3

6-10

10-15

15-25

20-35

30-50

50-70

50-70

Voltage

V

380

380

380

380

380

380

380

380

380

Motor power

kw

5.5

5.5/7.5

7.5/11

15/18.5

30

45

55

90/110

160

Weight

KG

800

1000

1200

2500

6500

8000

10000

22000

22500
Functionele opties
No.

Function

Description

Please tick (✔)

Price (USD)

1

Motor-driven and speed-decreasing

roll pitch regulation

Improve the work efficiency

and the uniformity and consistency

of the thickness of the rubber







2

Pneumatic cutting

device

Cutting the rubber with a settled

width







3

Cutter distance

adjusting device

Ensure the uniformity and accuracy

of the width of rubber







4

Lifting device

for baffle moving

For easy cleaning and higher safety







5

Hydraulic device

for moving of baffle

Hydraulic movement of baffle can

reduce labor intensity and improve

safety







6

Automatic hydraulic

refueling device

Ensure the roller bearing cooling and lubrication of high strength and high saturation







7

Automatic Material

Stirring Device

Reduce labor intensity and improve safety







8

Interval mixing

timing reminder

Avoid worker forgetting to remind

feeding the small material







9

Frequency

Converter

Save energy and controllable speed

when preforming







10

Corrosion proof

treatment

The rollers and the periphery of the

press plate should be plated with

hard chromium or stainless steel







11

Customized full-scale

safety system

Avoid hidden dangers of production

and increase the safety of operators